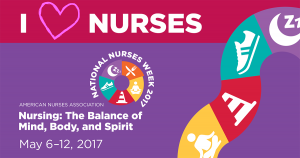 In honor of National Nurses Week, ANA has worked with Congress to celebrate nurses for their expertise, compassion, and vital role they play in our nation's healthcare system.
On May 4th, Representative Eddie Bernice Johnson (D-TX), the first registered nurse elected to Congress, introduced House Resolution 315. This resolution states that the U.S. House of Representatives supports the goals and ideals of National Nurses Week as founded by the American Nurses Association. It notes that as nurse staffing levels increase, the risk of patient complications and length of hospital stays decrease, resulting in cost savings. Further, it acknowledges that nurses consistently deliver high-quality care with positive patient outcomes when they are allowed to work to the full extent of their education and training.
Rep. Johnson called her resolution a small token of gratitude and recognition for all the hard work nurses perform. "As a non-practicing registered nurse and member of the Congressional Nursing Caucus, I am acutely aware of how valuable nurses are to the medical system, patients, and our society," said Johnson. "Whether in hospitals, nursing homes, community clinics, or any other setting, nurses are integral to patient care. Nurses are our greatest resource in eliminating health disparities and alleviating chronic disease as they exemplify and lead prevention and public health efforts."
The Co-Chairs of the Senate Nursing Caucus, Sens. Roger Wicker (R-MS) and Jeff Merkley (D-OR), introduced an identical resolution officially honoring May 6-12 as National Nurses Week. Their resolution recognizes nurses as strong allies to Congress, experienced researchers, and the cornerstone of the public health infrastructure.
On May 11th, a bipartisan group of Senators introduced S. 1109, the Nursing Workforce Reauthorization Act. Led by Senators Jeff Merkley (D-OR), Richard Burr (R-NC), Tammy Baldwin (D-WI), and Susan Collins (R-ME), this legislation would reauthorize, update and improve programs that help to grow and support the nursing workforce in the United States.
"As the husband of a nurse, I hear firsthand about the challenges and successes that come with working on the frontlines of our health care system," said Merkley. "Every day, nurses take on difficult, essential, and often thankless tasks that keep our health care system running and that have a huge impact on the patient experience. Each of us has a story about the nurse who made all the difference at a frightening or difficult time for our families. I'll keep fighting to improve federal policy to fully recognize and support the essential role of nurses in our health care system, and I invite all Oregonians to join me in recognizing the tremendous work of our Oregon nurses this National Nurses Week."
Additionally, ANA co-sponsored two Hill briefings with the Nursing Community in collaboration with the House and Senate Nursing Caucuses. The series was entitled "Transforming Health and Health Care: Nursing Workforce and Research." The first briefing featured nursing experts who made a clear case to Congress for funding nursing education by highlighting ways the nursing profession is meeting healthcare needs of the nation. The second briefing focused on the contributions of nursing science as it relates to care across the continuum, including data science and precision health. The speakers discussed nurses' leading role in research innovations and how nurse science has helped improve patient outcomes.
As we bring Nurses Week to a close, The Hill published an op-ed by President Pamela F. Cipriano, PhD, RN, NEA-BC, FAAN, urging Congress to cut through the red tape to help Medicare beneficiaries get the care they need by passing S.444/HR 1825, the Home Health Care Planning Improvement Act. This legislation would authorize nurse practitioners, clinical nurse specialists, and certified nurse midwives as eligible healthcare professionals who can certify patient eligibility for home health care services under Medicare.
Happy Nurses Week and thank you for the meaningful work you do every single day!!