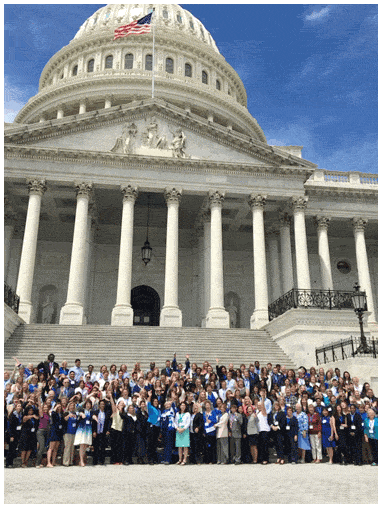 Last week, ANA held its largest Hill Day in our history, with more than 400 nurses representing 48 states descending on Capitol Hill to discuss their continued opposition to the American Health Care Act.
The day started at the Washington Hilton, where nurses heard from Reps. Ruben Gallego (D-AZ-7) and Alan Lowenthal (D-CA-47) who both emphasized the importance of advocacy. The group then headed to the Hill, where they attended more than 300 congressional meetings, educating lawmakers in both the House and the Senate and reminding them the importance of nurses in the healthcare system.
Every nurse engaged their legislators with compassion and authority — speaking not only as patient advocates, but as representatives of the nation's most honest and ethical profession, and largest group of healthcare professionals. Our combined impact cannot be understated: healthcare is the top employer and the sixth largest industry in the United States, and you represent the largest workforce in healthcare.
The nurses in DC were supported by the actions of thousands of nurses across the country, who amplified their message through direct calls to Congress and social media — making almost a million impressions on Twitter alone.
One RNAction Hill Day tweet has even gone viral, with hundreds of likes and retweets by notable groups and allies, including Families USA and former CMS Administrator Andy Slavitt, as well as several local chapters of the group Indivisible. This outsized reach is a direct result of our engagement with the Families USA-led "Big Tent" coalition, with whom we have long worked to coordinate and amplify reform messaging.
But our work doesn't stop at a successful Hill Day. Now we need to continue to put the pressure on the Senate! We've made it easy for you to call your senators by using our new click-to-call functionality. Make your call now and tell your senators that we need a transparent, patient-first approach to health care reform — we'll connect you directly with their offices.