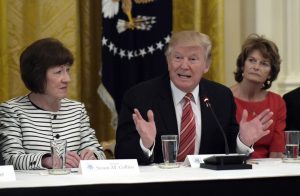 Following a dramatic late night vote that saw Senators reject Majority Leader Mitch McConnell's (R-KY) so-called "skinny" bill repealing the Affordable Care Act (ACA), lawmakers from both sides of the aisle are publicly calling for a fresh approach to reforming health care that embraces bipartisanship and transparency, and actively seeks solutions from experts who know health care best, including America's 3.6 million nurses.
Sens. Susan Collins (R-ME), John McCain (R-AZ), and Lisa Murkowski (R-AK) joined with all 48 Senate Democrats to vote against legislation that would've stripped the individual and employer mandates introduced by the ACA, among other harmful provisions, and which was intended to pave the way for a conference committee of representatives from both chambers, who would be responsible for crafting a bill that both could pass.
But House Speaker Paul Ryan (R-WI) seemed unwilling to guarantee that his chamber wouldn't just skip the conference process and pass "skinny" repeal itself, prompting McCain and others to publicly withhold their support early yesterday evening. While subsequent assurances from Ryan and Vice President Mike Pence were enough to win back the support of some of those Senators, McCain ultimately came to the same conclusion as his colleagues from Alaska and Maine, and voted no.
The nursing community showed up like never before in this fight, driving thousands of calls and e-mails to Congress. Hundreds traveled all the way to Washington, DC last month to deliver our message face-to-face with our legislators: The only way our country can truly reform our healthcare system is by working together. No more closed doors. No more dead-of-night deals. No more decisions made without a single nurse consulted.
While this victory is heartening, we know there are those who will continue pushing lawmakers and the administration to undermine our health system and harm those who have gained coverage as a result of the ACA. If you haven't yet, please join our RNAction community to learn more and get the latest updates on how you can help ensure that our representatives in Washington continue to protect our care and put patients first.