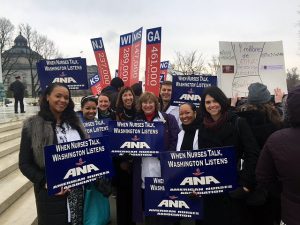 As nurses and consumer advocates in Texas fought for full Advanced Practice Registered Nurse (APRN) practice authority this past legislative session, those opposing the measure trotted out an unlikely source: a patient who had suffered harm at the hands of an APRN. Likewise, nurses and consumers in Oklahoma were stymied in their push for full practice authority when a legislator expressed concern with a growing rate of malpractice claims against APRNs. But when you step back from arguments that are based on emotion and anecdotes, all that's left are facts—and facts are stubborn things.
In this instance, the facts show that the arguments against full APRN scope of practice in Oklahoma and Texas don't hold water. Take the patient who was harmed, for example.  While it's undoubtedly true that patients are sometimes harmed in the delivery of healthcare, what truly matters is whether APRNs are able to practice safely and effectively in comparison to what one might expect from other healthcare providers. And, as this space has covered, APRNs fare well in that analysis. Indeed, as the National Academy of Healthcare noted, "the contention that APRNs are less able than physicians to deliver care that is safe, effective, and efficient is not supported by the decades of research that has examined this question."
This is further borne out by malpractice claims and payout data, contrary to the concerns of the legislator from Oklahoma. Some of the most recent data available from the National Practitioner Databank, a national repository of malpractice claims and payouts, shows that nurse practitioners did  experience an 18% increase in malpractice claims from 2007-2011. And yet, during that same time, the number of nurse practitioners increased by a whopping 28%. The fact is that although malpractice claims increased by 18%, they should have increased by 28%, in line with the increase in nurse practitioners. In other words, nurse practitioners actually improved their safety as determined by the rate of malpractice claims during the study timeframe.
What's more, a 2013 American Association of Nurse Practitioners' study of the National Practitioner Databank found that the malpractice payment rate for nurse practitioners was half that of Physician Assistants and ten times less than that of MDs and DOs. Put another way, while it's true that one in a thousand APRNs made a malpractice payout during the study period, that was a much lower rate than the one in five hundred PAs, or the one in one hundred MDs/DOs.
Facts are stubborn things. And here are some for states without full APRN practice authority to consider: APRNs practice safely, effectively, and cost-efficiently, and are much less likely to harm patients or pay out malpractice claims than other healthcare providers.