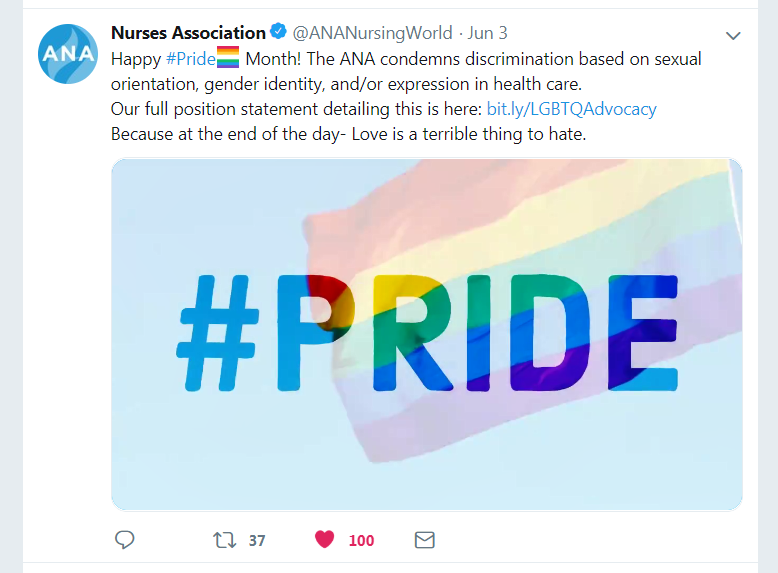 June is Pride Month and a chance to give colorful visibility to LGBTQ lives and relationships, celebrating inclusion, respect, and civil rights. To LGBTQ nurses, patients, caregivers, and allies – Happy #Pride!
ANA condemns discrimination in health care based on sexual orientation, gender identity, and/or expression. Experiencing any kind of discrimination, stigma, or disrespect from care providers is not just unpleasant. It can be traumatizing. It can lead people to hold back important information about their health or avoid seeking care altogether. These access barriers can lead to poor health outcomes.
Nursing advocacy plays a key role in promoting culturally congruent, patient-centered access for LGBTQ patients. To help you support Pride in health care this month and every month, we have rounded up some handy resources.
First, ANA's Nursing Advocacy for LGBTQ+ Populations is a comprehensive statement and framework for improving culturally congruent care for lesbian, gay, bisexual, transgender, queer, or questioning (LGBTQ+) populations. The statement names barriers LGBTQ people often confront in health care, and the health disparities that result. ANA commits to addressing these concerns with a series of recommendations to defend and protect the human and civil rights of all members of LGBTQ populations.
Throughout the statement, it is clear there are many ways nurses can ensure positive experiences for LGBTQ patients and their families in the health care system, including through advocacy. There are also numerous links to helpful references if you want to learn more or share information about safeguarding access for LGBTQ populations.
One of those references is the National LGBT Health Education Center in the Fenway Institute. The Fenway Institute grew out of Fenway Health's experience providing care to LGBTQ people in Boston, many of whom confront access barriers in local care delivery. The National LGBT Health Education Center offers education and advocacy programs that are grounded in the LGBT community, aiming to change the larger community. For example, the center's website houses training materials and toolkits, and information on how to receive more in-depth technical assistance. These are valuable tools to make health care more inclusive and enable providers to meet the unique needs of LGBTQ patients.
Here are some additional resources to support LGBTQ patients and advocate to improve their care experience:
Happy #Pride!