In recognition of National Voter Registration Day this week and ahead of next year's presidential election, the American Nurses Association (ANA) launched its new and improved #NursesVote website this week. This new resource for ANA members and nurse-advocates everywhere builds on our work last fall, when thousands of nurses engaged with ANA's #NursesVote Action Center to ensure they had all the information they needed to cast their vote and make their voices heard.
Looking ahead to 2020, the new #NursesVote expands on those efforts with a heightened focus on the presidential race. Our interactive registration tool continues to help voters in every state confirm that they're registered to vote (or get registered if they aren't), locate their polling place, or find out what's needed to vote absentee or early. For nurses in particular, we know their schedules might not provide the opportunity to cast their ballots on Election Day itself.
Additionally, #NursesVote is your go-to resource for information on the candidates as their campaigns progress, ANA's nursing priorities, and how best to engage with and support the candidate of your choice. ANA encourages all nurse advocates to become well informed voters and help ensure every presidential candidate considers advancing the nursing profession to be one of their core priorities.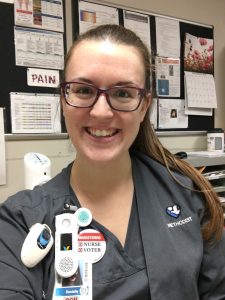 Our candidates page provides a breakdown on the ways in which each candidate has supported key federal legislation and policies on issues that include nursing education and workforce development, home health care and APRNs, how to ensure nurses are equipped to help fight the opioid epidemic, and more. ANA is heartened to know it will have a partner to work with in the White House regardless of the election's outcome.
Also included are sections that detail the most pressing federal advocacy priorities impacting nursing, as well as a newly released comprehensive guide for those looking to engage with the various presidential campaigns – either as a volunteer or simply as a concerned citizen and nurse-advocate. From running a voter registration drive to making the most of an upcoming campaign visit in your area, #NursesVote will help you hold candidates accountable and ensure other voters understand why nursing issues are an essential part of the discussions taking place between candidates and the constituents they hope to represent.
ANA empowers nurses across the country to become politically engaged advocates and looks forward to hearing how the new website helps further this mission.