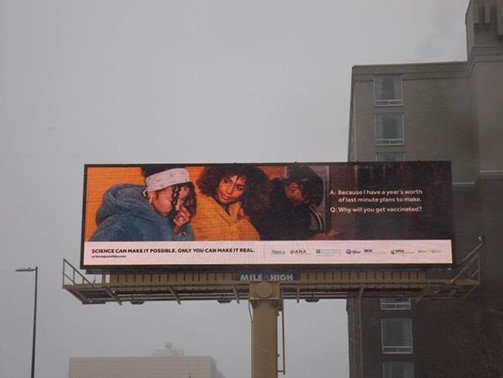 On December 15, 2020, the American Nurses Association (ANA) joined with the American Hospital Association (AHA) and the American Medical Association (AMA) in an open letter urging health care professionals to take the COVID-19 vaccination when it becomes available to them. Since that time, ANA has been delighted to see the welcome images and stories shared of nurses stepping up to take the COVID-19 vaccine, and prepare themselves to vaccinate the general public when the time comes. In one of our favorite postings on social media, Reuters tweets a video of a nurse in New York receiving their second dose, on January 4. And here is ANA chief nursing officer Debbie Hatmaker cheering on nurse volunteers to go out and get the shots in the arms of the first tiers of vaccine recipients.
More recently, ANA, AHA and AMA released a public service announcement (PSA) calling for the American public to get the COVID-19 vaccination when it is their turn. The PSA emphasizes that COVID-19 vaccines are safe and effective, and will help us all as we work together to defeat COVID-19. 
Many people, including some nurses and other health care providers, are skeptical about taking the vaccine. Some are distrustful of the speed with which the vaccine came to market. Others, including many individuals from Black American, Latinx and other communities of color, legitimately distrust a healthcare system that has a history of discrimination, abuse, and neglect. This history not only points back to unethical and inhumane scientific experimentation such as the Tuskegee project, but is manifest in persistent disparities and systemic injustices in health care access and outcomes, even to this day in the COVID-19 pandemic. ANA along with the American Academy of Nursing has called for broad-based social action to address injustice and racial inequities in health care. Disparities must be addressed if the project to vaccinate the nation is to be successful.
In an effort to lead by example and show certainty of the science in the safe outcomes of COVID-19 vaccines, ANA President Dr. Ernest Grant participated in the Moderna vaccine trial. "It afforded me the opportunity to stand in solidarity with nurses on the frontline, battling the COVID-19 pandemic all across the U.S. Secondly, I recognized the urgent need for Black Americans to participate in vaccine clinical trials," said Dr. Grant. The trial was unblinded earlier this year and Dr. Grant learned that he did receive the vaccine, as opposed to the placebo. He has elected to remain in the study for the full two years, as Moderna continues to gather data on the effects of the vaccine.
ANA leaders are confident in the capacity of the nursing profession to meet this moment. This confidence comes from knowing that nursing remains the most trusted profession, and that nurses hold themselves to high ethical and practice standards. Following these standards in the broadest sense means that a nurse will have an informed, considered approach to receiving and administering the COVID-19 vaccine. A nurse must consider their duties to optimize patient outcomes and promote the common good, along with the responsibility to safeguard their own well-being. In any situation, there is an ethical obligation to seek and obtain education and information, as well as advocate for answers when there are questions. Nurse leaders have a duty to provide nurses with accurate and accessible information so that individual nurses can make an informed decision for themselves and in turn assist in counseling their patients. 
In a survey of 13,000 nurses conducted last October, four out of ten nurses indicated a need for more information about the COVID-19 vaccine as a major reason for their skepticism at that time.  To meet that need, ANA set about to educate nurses and equip them with the tools they need to make decisions for themselves and for their patients. One key component is a set of Guiding Principles for Nurses, organized around themes of Access, Transparency, Equity, Efficacy, and Safety, approved by the ANA Board of Directors in 2020.
ANA continues to work to gather the most credible, evidence-based information about the vaccines, and share that information widely with members, nursing communities, partners in health, and policymakers.
Nurse-focused materials available now include:
FAQs created jointly by ANA and the pharmacist group ASHP, written with the clinician in mind.
A webinar and short-form videos featuring perspectives from a public health nurse and presenting the facts about COVID-19 vaccine development and distribution
ANA's dedicated vaccine webpage also offers links to relevant information from partners such as the Centers for Disease Control and Prevention (CDC). ANA is using its other distribution channels to share information helpful to nurses in the vaccination effort, such as the Vaccine Handling Toolkit recently released by ANA's partner US Pharmacopeia. The toolkit informs operational issues on preparation and labeling, storage and transport, and waste and disposal of COVID-19 vaccine material.
Providing vaccine education and resources aligns with ANA's commitment to immunization as a critical component of public health. In addition to providing information directly to nurses, ANA has advocated for public policies to address specific aspects of the vaccine roll-out that are important for nurses and their patients. In a letter to the transition team for the new Biden administration, ANA emphasized that nurses are central to vaccination efforts and their voices should be considered in distribution planning. ANA also called for federal resources to support mass distribution and administration. Advocacy on vaccines goes hand in hand with continued advocacy for policies to expand access to protective equipment and provide economic relief as strategies that are also key to slowing the spread of COVID-19.
For more information about ANA advocacy on issues that are important to nurses, visit RNAction.org.