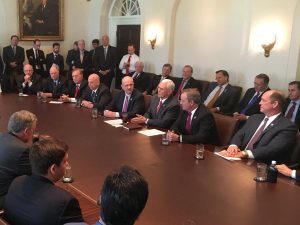 Earlier this week, the Senate passed a resolution amending the Title X Family Planning Grant Program to allow states to withhold family planning funds from going to Planned Parenthood and other organizations that provide reproductive health services. The program, which allocates money for counseling, contraception and prenatal care, cannot be used for abortion services under previous law. The measure, which had already been passed in the House, sought to go even further and restrict any (Title X) grant money from going to any clinic providing these services.
Republican Senators Susan Collins and Lisa Murkowski joined with Senate Democrats in opposing the measure, leaving the Senate tied with a 50-50 vote count. Vice President Mike Pence, who is constitutionally designated the 'President of the Senate' and is entitled to break ties in the chamber, cast a vote in favor of the misguided measure, allowing it to pass.
The Supreme Court confirmation fight also escalated in the Senate this week, with 34 of the chamber's 48 Senate Democrats lining up to filibuster President Trump's conservative nominee, federal judge Neil Gorsuch. Some Democrats cautioned against moving forward with the nomination while some of the President's campaign associates are currently under federal investigation, while others were concerned by Senate Republicans' refusal to consider Judge Merrick Garland's nomination last year.  Though judicial confirmations typically require a consensus 60-vote majority to limit floor debate and confirm a nominee, Senate Republicans are considering a 'nuclear option' that would amend Senate rules to confirm Judge Gorsuch by simple majority (51 votes). The Senate Judiciary committee plans to vote on the nomination on Monday, and a full vote before the Senate is expected by week's end.
Finally, tensions between the conservative House Freedom Caucus and President Trump continued to escalate following last week's failed attempt to hold a vote on the American Health Care Act. President Trump singled out the caucus in a string of tweets, accusing them of hurting the Republican agenda. The back and forth escalated further when the President singled out Members of Congress by name for obstructing the repeal of the Affordable Care Act.