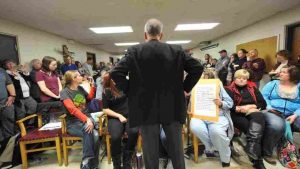 Following their failure to hold a vote on the misguided American Health Care Act (AHCA), congressional Republicans now head into a two-week recess with more questions than answers. Despite continuing negotiations with the House Freedom Caucus, the basic dynamic hasn't changed: for every vote Republicans pick up from the conservative wing of their House caucus, they lose votes from their moderate wing. And the reason for their continued failure hasn't changed: the AHCA is a fundamentally flawed bill that would cause millions to lose health coverage by cutting Medicaid and taking away essential benefits.
Even worse, proposed concessions made by Vice President Mike Pence could undermine protections for people with pre-existing conditions, and lead to states allowing insurance companies to charge sick people more for coverage than healthier individuals, to name just two possible outcomes.
Republicans' persistence and the AHCA's shortcomings underline the importance of the next two weeks. As is customary for recess periods, Members of Congress from across the country will be holding town halls to hear directly from their constituents. Now more than ever, it's imperative that lawmakers understand that a majority of voters are opposed to the AHCA and similar efforts to make Americans less healthy.
In partnership with Families USA, check out this comprehensive toolkit to help you tell lawmakers to #ProtectOurCare. From in-person meetings to attending town halls to speaking out on social media, there's something for everyone who wants to get involved.
Are you planning to attend a town hall meeting in the next two weeks? If so, let us know in the comments below, and good luck!