Nurses know better than anyone that the COVID-19 pandemic exacerbated problems in health care and tested the resolve of the nation's health care system and its stewards. Among the most impactful changes to the healthcare system in response to the pandemic has been the use of a range of Public Health Emergency (PHE) waivers for restrictions and rules that were identified as barriers to safe care of all patients, not only those with COVID-19.
Readers of this blog know the importance of the PHE waivers for healthcare providers. State and federal waivers that have been active for almost three years have allowed Advanced Practice Registered Nurses (APRNs) to practice to the full extent of their education and clinical training. These waivers allowed more types of providers to practice and increased health care capacity to meet the needs of patients.
However, the PHE will not be in effect forever and these waivers will go away without Congressional action. With the recent introduction of H.R. 8812, the Improving Care and Access to Nurses (ICAN) Act, there is a solution that Congress can consider to ensure the strides APRNs made for the nursing profession will not be erased. The ICAN Act codifies key waiver provisions and includes some new expansions. The bill represents huge progress for APRNs to continue to practice at the top of their license. ANA will continue working with federal policy makers to expand access to APRN care and advance the nursing profession. The ICAN Act would remove unnecessary and outdated barriers to providing care for APRNs across the country so they can better care for their patients who are enrolled in Medicare and Medicaid programs.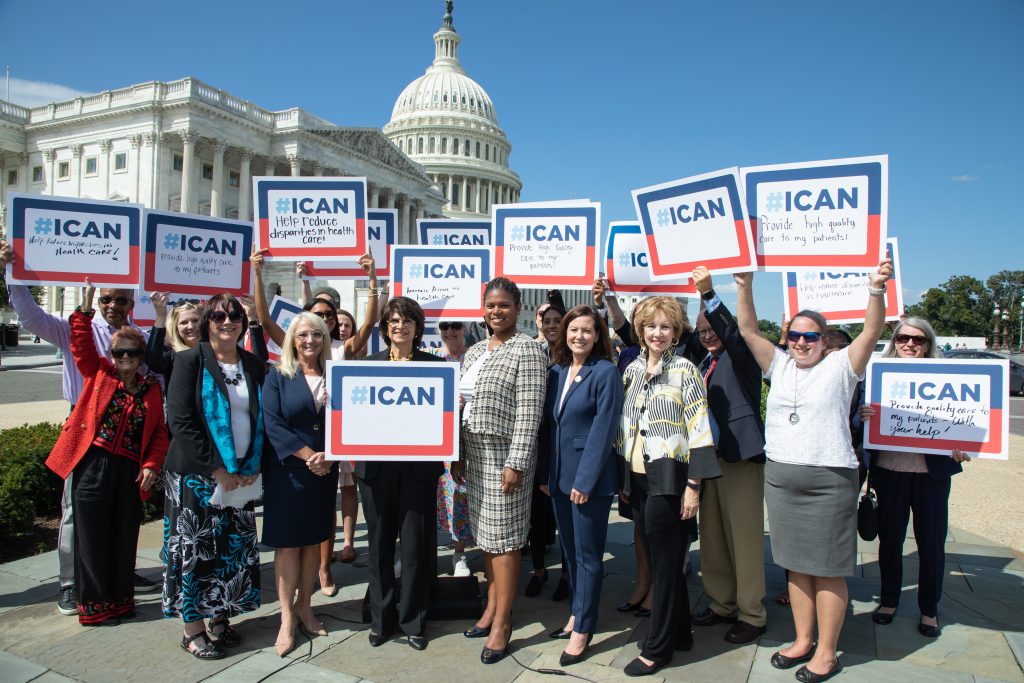 Earlier this month, writers of this blog heard a story from an ANA member and Nurse Practitioner in Nevada that perfectly encapsulated the need for the ICAN Act. As an NP, Denise* can handle most aspects, but not all, of her patients' diabetes care. As a rural practitioner, Denise is playing a key role in her community providing care in her small town so that people do not have to drive long distances to find a provider.
One of Denise's patients needed diabetic shoes to help manage his condition. Unfortunately, Denise and other NPs, cannot prescribe diabetic shoes to their Medicare and Medicaid patients despite managing many other aspects of care. Without the shoes, the patient's condition deteriorated. Ultimately, he was forced to have his leg amputated.
The domino effect on the patient's health was profound. Due to the amputation of his foot, he became suicidal and required mental health attention and a stay in a hospital far from his hometown. Now he is no longer able to drive himself and must pay for taxis to take him to his appointments. All of this, because Denise could not prescribe her patient shoes that he needed due to his condition. NPs are capable of providing holistic, quality care to their patients, but administrative barriers, such as this one, illustrate the need for the ICAN Act.
APRNs aren't the only ones discussing the importance of removing barriers to the profession. In 2010, the Institute of Medicine issued "The Future of Nursing: Leading Change, Advancing Health" report, which called for the removal of laws, regulations, and policies that prevent APRNs from providing the full scope of health care services they are educated and trained to provide. In 2021, the National Academy of Medicine (previously named the IOM) in their 2021 The Future of Nursing 2020-2030: Charting a Path to Achieve Health Equity report recommended that "all relevant state, federal, and private organizations enable nurses to practice to the full extent of their education and training by removing practice barriers that prevent them from more fully addressing social needs and social determinants of health and improve health care access, quality and value." Recommendations like this have been echoed on various occasions by the American Enterprise Institute, the Brookings Institute, and the Bipartisan Policy Center.
So, what can you do to help move this important legislation in the U.S. House of Representatives? Get acquainted with the legislation and share with your Member of Congress the provisions that will be most impactful to you and your patients. Then ask your Member of Congress to please cosponsor this common-sense, bipartisan legislation. You can read more about the bill and take action here.
Sending a letter to your Member of Congress will only take a minute of your time, but it will make a huge impact. If you have an experience similar to that of Denise and are interested in sharing it, you can email your story to rnaction@ana.org.
You can also visit our Twitter and Facebook (@RNAction) and tell us your #ICAN statement so we can retweet and repost you!
*Names have been changed to protect privacy.